Kur-ing-gai Chase National Park Sydney. New South Wales
Kur-ing-gai National Park covers the area between the western shores of Pittwater and the Hawkesbury River. There are many splendid bushwalks along marked trails to secluded beaches, aboriginal engravings and lookouts.
Visitors will enjoy spectacular views over the Pittwater Peninsula and Broken Bay from the West Head Lookout which sits on the most Northern tip of the park.
Winter and spring (the months of May to August) are the best times to visit the park to observe the spectacular wildflowers and wildlife.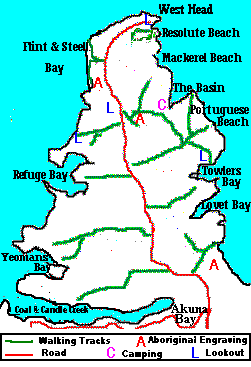 At this time of year Heath Banksia blooms and attracts hundreds of honeyeaters. It is also the mating season for Lyrebirds. The careful observer may see the male's spectacular display as it spreads its long tail in a fan and throws it forward over its head or hear its calls which comprise of rapid random melody and mimicked calls of other birds.
Lying near the centre of a large sedimentary basin, Ku-ring-gai Chase National Park is characteristic of Hawkesbury sandstone. The rocks are mostly sandstone with some shales and some volcanic soils at West Head. There are over 900 species of flora in the park.
There are marked walking trails to several bays and lookouts includung Flint and Steel on the Hawkesbury and The Basin in Pittwater.
Picnic facilities and barbeques are provided at Bobbin Head, Cottage Point and West Head, which are all accessible by car.
There is a camping ground at The Basin which is also accessible by ferry. The flat grassland makes a perfect camping spot on the edge of the Basin which is connected to Pittwater by a narrow inlet. there are toilets and barbecues and the basin provides a lovely safe swimming spot.

Kur-ing-gai can be accessed by car from Mona Vale Road via Terry Hills or by Pittwater Road through Church Point and Mc Carrs Creek or by Ferry from Palm Beach to The Basin.